How We Roll
We are trained to remove
all known security threats
including: Virtumonde, AdsRevenue, Conficker.C, MaliciousP, Xor-encoded.A, Fake Police Virus, RCMP Virus, UKASH, Downloader.MDW, Conduit, Ransomware and everything else that has managed to make its way onto your personal computer - Guaranteed! Not only will we cure your Computer of Viruses and Malware - We will re-optimize it for best performance and better secure your computer against future attacks. We are in a true sense, your personal in-home
computer security
and
virus removal
team here in Calgary, eager to help keep your computer secure and virus free, whenever you need us. If you would like to try the Virus Removal Proceedure on your own, we have written an
easy to follow tutorial
to save you some money.
If your bank account has been blocked by your banking institution due to malware on your system, please see
here
.
At Tech!Espresso®, we have the "Get it done" attitude you're looking for!
Like a shot of Espresso, we are fast, affordable and get straight to the point.
We are a team of local computer repair technicians, licensed and certified to repair anything and everything computer related in minimal time and with maximum results. Our 40+ years experience, as well as our low rates and fixed or free policy, goes unchallenged in the city of Calgary, so why settle for less?
There is no need to take your computer across town to a shop, wait a week or more for the repair and pay without knowing if it will work at home. We come to you, repair, test and let you confirm everything is working before we leave - and before you pay.
Fixed or Free
.
Most places will not show you what was done to resolve the problem - that is not how we operate. Please look us over the shoulder if you like. We encourage our customers to learn our procedures and to make easy to follow instructions, so you can
fix some issues on your own
, saving you time and money in the future (optional and of course free).
Virus or Malware Infection?
Our professional Windows PC and Apple Mac certified Virus, Malware, Spyware, Popup Adware, Trojan and Ransomware removal technicians, do house calls! We can do a full virus sweep and system optimization usually within a single hour directly in your home or business while you watch.
---
Our Detailed Virus Removal Process
We will give you a call 30 minutes before your set appointment to let you know we are on our way.
When your technician arrives, he will sanitize himself, as well as your equipment, before and after the virus removal process.
Your technician is highly qualified and will immediately begin working to remove all virus, malware, spyware and ransomware infections from your computer, while preserving all of your files and configurations in the process.
After the technician has completed the removal process, eliminating all viruses and re-securing your computer, he will thoroughly test the result and ask you to confirm the job.
We will include the installation of free antivirus software, that will outperform your current solution, if you desire.
Once the job is completed and you are happy with the results, we will then take payment via Credit or Debit Card Terminal and send the receipt to your eMail. The entire job is usually completed within 1 hour.
You will also receive an eMail from your technician shortly after the visit describing what was removed and what was done while servicing your computer.
Repair Coverage
---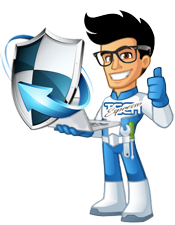 Virus Variations:
• Windows: All Virus, Malware, Adware, Spyware and Ransomware Variations
• Apple: All Virus, Malware, Adware, Spyware and Ransomware Variations
---
Operating Systems:
• Microsoft Windows: XP, Vista, 7, 8, 8.1, 10, 11, Server 2008 R2 - 2019
• OS X and MacOS: Snow Leopard, Lion, Mountain Lion, Mavericks, Yosemite, El Capitan, Sierra, High Sierra, Mojave, Catalina, Big Sur, Monterey, Ventura as well as all Server OS
---
Most Active Virus Today
Fake Windows Updates (Hidden Ransomware), Hackers have been increasingly sending emails that instruct readers to install urgent Windows OS updates. The emails trick readers into installing the "latest" Windows updates, which are actually ransomware <.exe> files in disguise.

The ransomware contained in these emails is known as . It encrypts all of your files and programs and demands a ransom payment to un-encrypt your data.

Unfortunately, many email service providers and basic antivirus software aren't able to detect and block these emails. This is a good reason why you may want to consider regular check-ups from us in the future.
---
Other Services:
Our Prices
One rate for all services!
We charge by the hour and not by the item. This allows us to complete everything on your list without billing you for each individual task. Our fully certified technicians work very efficiently in getting everything resolved quickly - and correctly - the very first time, so you save money now - and later down the road through lasting results.
View our prices here.
Bank Institution Certified Virus Removal Centre
---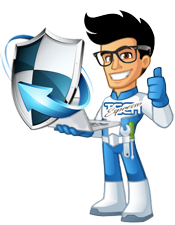 We are an authorized service provider of the RBC Royal Bank of Canada, TD Toronto Dominion Bank, Scotia Bank, BMO Bank of Montreal and CIBC Canadian Imperial Bank of Commerce, for certified Virus Removal delegation.
---
Virus Removal & Verification Service
If your computer or device has fallen victim to a cyber-attack which led to fraudulent transactions regarding your personal or business bank account, your banking institution may request a certificate verifying the removal of aforementioned malicious computer infections before your account can be re-activated.
Our certified PBVC and BBVC Virus Sweep process covers the full removal of all infections, system re-secure and a detailed infection report with 'Proof of Removal Certificate'. Going forward, here are some tips form CIBC to help keep your computer and banking information safe. Book this service now.
Personal Banking Certificate
---
• PBVC : Personal Banking Virus Removal Certification:
Please mention PBVC in the comments when booking your appointment and we will issue the certificate upon completion of the service. Present the certificate to your bank for full reactivation of your Personal Banking accounts.
Business Banking Certificate
---
• BBVC : Business Banking Virus Removal Certification:
Please mention BBVC in the comments when booking your appointment and we will issue the certificate upon completion of the service. Present the certificate to your bank for full reactivation of your Business Banking accounts.
*All certifications reflect the brand and model of the inspected computer(s) as well as their serial numbers for cross referencing procedures conducted by the banking institution.